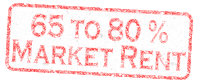 We manage the lettings process for all new affordable rented homes built by the London Borough of Barking and Dagenham.
In the longer term our ambition is to take responsibility for the letting of these properties when they become vacant and are ready for re-letting.
Our aim is to offer housing choices to those who
Are in employment
Can't afford to buy or rent privately
Have limited access to social housing
The properties we work with have rental levels that are between 65 per cent and 80 per cent of market rents.
All of our tenancies are let initially on a probationary basis of one year.
After that time and providing that the tenant has fulfilled all contractual obligations in terms of the payment of rent and other issues related to the tenancy, a longer tenancy period will be offered.
Some of our developments are owned and managed by London Borough of Barking and Dagenham, while others are managed but not owned by the Council.